What is Compounded Medicine?
Pharmacy compounding is the customized preparation of a medication based on the need of a particular patient. These medications are prescribed by a physician, veterinarian, or other prescriber, and compounded by a state-licensed pharmacist. A growing number of people and animals have unique health needs that off-the-shelf, one-size-fits-all prescription medicines cannot meet. For them, customized medications are the only way to better health and are often life-saving.
Who uses Compounded Medicine?
Millions of patients have unique health needs that off-the-shelf, manufactured medications cannot meet. For these patients, personalized medication solutions – prescribed by licensed providers and prepared by licensed pharmacists – are the only way to better health.
Working with a provider, a compounding pharmacist can meet individual needs of children, adults and animals. Whether it's an allergy to a dye or ingredient, a need for a different strength, or a preference for a different dosage form, compounding pharmacists provide patients with solutions to their medication needs.
Reasons for compounding:
When needed medications are discontinued by or generally unavailable from pharmaceutical companies;
When the patient is allergic to certain preservatives, dyes or binders in available off-the-shelf medications;
When treatment requires tailored dosage strengths for patients with unique needs (for example, an infant);
When a pharmacist can combine medications a patient is taking to increase compliance;
When a patient cannot take the medication in its currently available form (tablet, capsule, etc.), a pharmacist can prepare the medication in cream, liquid or other form that the patient can easily take in order to increase adherence; and
When medications require flavor additives to make them more palatable for some patients, most often, children.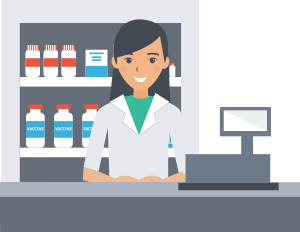 Who are Compounding Pharmacists?
Pharmacy compounding is a centuries-old, well-regulated and common practice. Pharmacy is one of the most respected and trusted professions in the United States, ranked second only behind nurses. Compounding pharmacists work in a variety of practice settings, including: community pharmacies, hospitals, home infusion, hospice, assisted living and long-term care facilities.
Compounding has evolved into a specialty practice within the pharmacy community today. New applications to meet today's patient needs require additional education, equipment and processes that not all pharmacies possess.
Resources
Need more information on pharmacy compounding? Check out our Resources links to access a variety of associations and organizations that are either directly related to compounding, or have a role in regulating or supporting this important area of patient healthcare.